A Sacramento, California school district has announced that they will not be complying with Governor Gavin Newsom's vaccine mandate.
Calaveras Unified School District announced their decision on Wednesday, after the board voted to not "support, enforce or comply" with the order the previous evening.
The statewide mandate will be applying to both students and staff at public schools.
In a statement posted to Facebook, the school district said, "CUSD Families, Tonight, the CUSD Board of Trustees voted 5-0 to not 'support, enforce or comply with' the pending COVID-19 vaccine mandate."

The district also announced that they will be voting on mask mandates at a meeting scheduled for November 23.
"This outcome was the same for the both agenda items addressing students as well as staff. Direction was also provided to agendize the topics of Mask Mandates and Testing Protocols for the 11/23 Board Meeting for further discussion and possible board action," the announcement continued.
In a letter posted by the district on November 4, they stated that they are aware of possible repercussions involved with refusing to comply. They cited possible liability exposure, funding loss, "and other formal actions." The board added that they are aware that the superintendent recommended mandate compliance due to these potential consequences.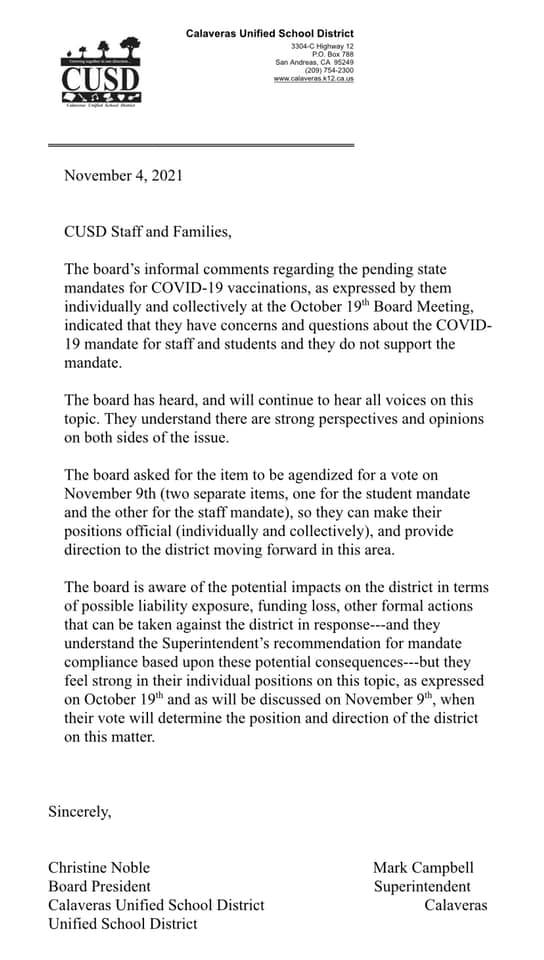 The vote took place about one week after the Food and Drug Administration gave the final approval to give vaccines to children as young as five years old.
The Calaveras Enterprise reports that prior to the vote, one commenter from the audience told the board, "I am so proud of you guys. I am so proud to be in Calaveras County, and I am so proud that we are united. I'm so proud. I know It takes a lot of courage to take a stand like this. I'm so proud of each one of you, and I'm so proud of all of us. … We're gonna have your back." Applause and a shout of "we got your back" echoed the sentiment throughout the room.
Last week, Mark Twain Union Elementary School District was the first district in the county to vote against enforcing the mandate.