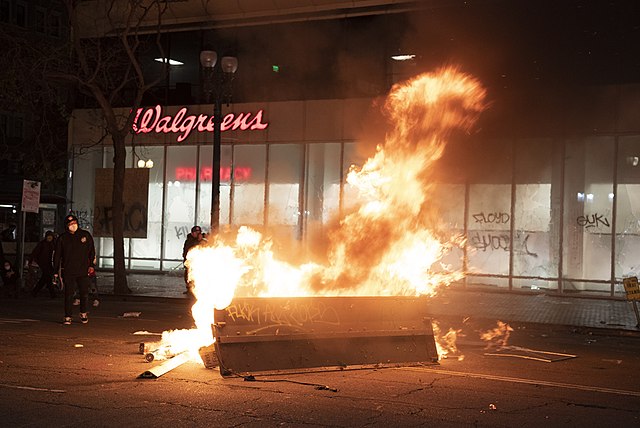 By Cassandra Fairbanks
Black Lives Matter leaders who met with members of the Biden administration earlier this year are upset that their recommendations for police reform are not being followed.
Leaders from the activist group released a statement saying that President Joe Biden should be listening more to the communities that "so strongly supported Biden-Harris during last year's election."
In the statement provided to CNBC, the organization said that they are particularly upset with proposals that would give police departments more funding — the opposite of their stated aim of "defunding the police."
"Leaders from Black Lives Matter met with White House officials earlier this year to discuss our policy agenda, and while we appreciate the chance to talk with them, we are surprised by their lack of progress on issues that matter to Black people, the same communities that so strongly supported Biden-Harris during last year's election," the Black Lives Matter Global Network Foundation told CNBC.
The CNBC reported noted that "the meeting and its aftermath indicate that Black Lives Matter and the Biden team are headed for a standoff. It's also a sign that Black Lives Matter may not have as much influence in the Biden White House as the group had hoped."
Biden recently approved states being able to pull from the $350 billion in stimulus funds to provide extra funding to police departments — as well as new policies that will help curb the major uptick in crime taking place in cities across the nation. Naturally, neither of these moves have left the far-left activists very pleased.
"And now we see the President arguing for increased spending on police rather than investing in housing, education, climate preparedness and healthcare," Black Lives Matter's statement continued. "This is no time to return to the dangerous days of the tough-on-crime fear-mongering of the 1990s when more cops were placed in our neighborhoods, rather than services that improve lives and keep Black communities safe."
Unfortunately for BLM, they may be losing quite a bit of their political bargaining power, as opposition to the movement has been on the rise since last summer's riots. Currently, 42 percent of the nation opposes the movement, while 46 percent support it.
Prior to the chaos sparked by the death of George Floyd, the movement had been pretty consistent in having only 30-35 percent opposition.
For corrections, please email [email protected]