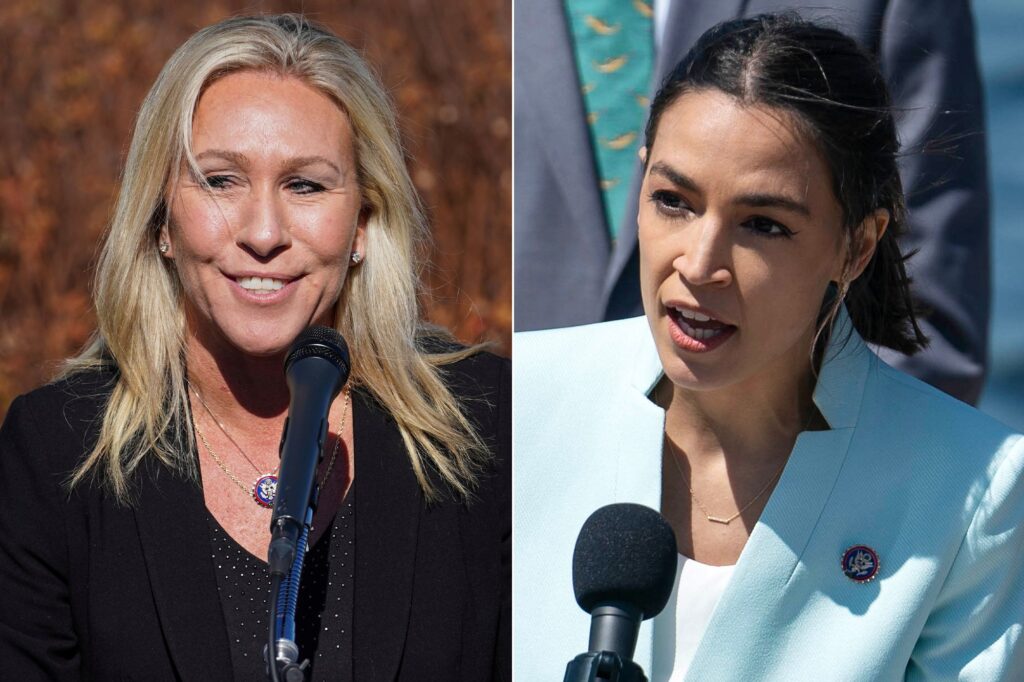 By Cassandra Fairbanks
Congresswoman Alexandria Ocasio-Cortez responded to Majorie Taylor Greene calling her a "little Communist," by declaring "first of all, I am taller than her."
While speaking at former President Donald Trump's rally in Ohio over the weekend, Rep. Greene had took aim at Ocasio-Cortez, "the little communist from New York City," by calling to "lock her up," and claiming, "she's not an American."
"She's not an American. She really doesn't embrace our American ways," Greene said while discussing the Green New Deal.
The crowd began to chant "lock her up," to which Greene responded, "Yeah, lock her up too. That's a good idea."
First of all, I'm taller than her https://t.co/H6rXG66GJk

— Alexandria Ocasio-Cortez (@AOC) June 27, 2021
Shrugging off the other comments, Ocasio-Cortez quote tweeted a clip of Greene's speech with the statement about her height.
"First of all, I'm taller than her," the tweet simply read.
Ocasio-Cortez is reportedly 5'4, while Greene is 5'3.
The New York congresswoman did not respond to being called a Communist or the call for her imprisonment.
Let me help you with how to analyze the data and calm the hysteria @AOC.

Fund the police. https://t.co/hVS29vT5Xr

— Marjorie Taylor Greene 🇺🇸 (@mtgreenee) June 27, 2021
There has been an ongoing feud between the two representatives for some time.
The New York Post reports:
In April, Greene posted a photo of the two on the House floor, adding "I'm glad I ran into you today @AOC to plan our debate about the Green New Deal."

"After I finish reading all 14 pages, like we agreed, I'll schedule time for our debate," Greene wrote on Twitter.

And in May, Greene followed Ocasio-Cortez down a House corridor, calling out to her, "Hey, Alexandria," claiming that she supported "terrorists."

Ocasio-Cortez reacted by throwing her hands into the air in frustration.

Speaking to reporters days after the encounter, Ocasio-Cortez invoked her previous job as a bartender. "I used to work as a bartender," she said: "These are the kinds of people that I threw out of bars all the time."
For corrections, please email [email protected]