The Wauwatosa School Board in Wisconsin has approved a sex education curriculum that refers to girls as a "person with a vulva."
The school board voted 6-1 to approve the curriculum for kindergarten through high school on Monday night.
The lone member who voted against it was not opposed to the curriculum itself, but wanted additional options, according to a report from the local Fox 6 station.
Kindergarten students, under the new lesson plan, will be learning the words penis, vulva and anus. An image from the plan for this age group was obtained by Fox 6 and blurred due to the graphic nature.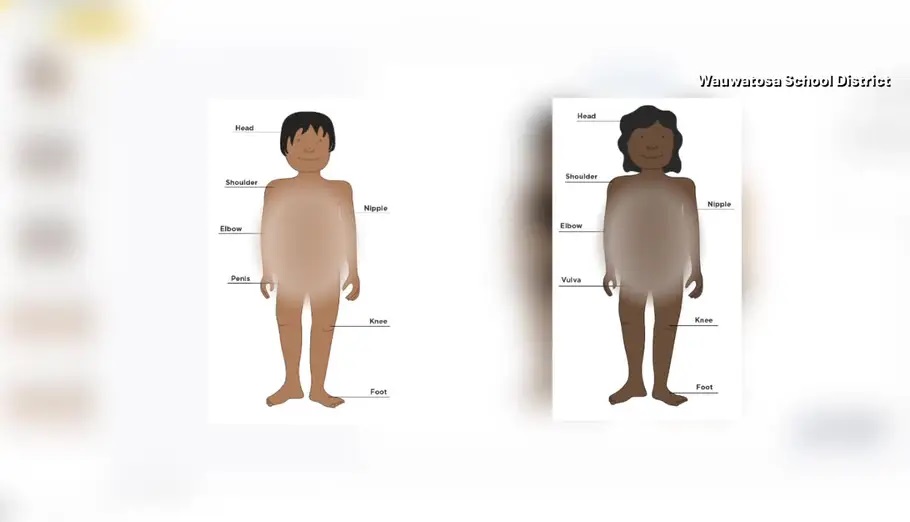 In second grade, the students will learn about "gender stereotypes" and asked to identify toys that they believe are for boys or girls.
"For example, some people say only girls should play with dolls, but boys can play with dolls, too," the lesson says. "But sometimes, we are still told that only boys should play with a certain toy or that only girls should play with a toy. This might happen with clothing, activities or jobs, too."
The following year, in third grade, students will be taught that they may be transgender. They will also learn about people deciding their own pronouns.
"You might even feel like you're a boy even if you have body parts that some people might tell you are 'girl' parts," one activity reads. "You might even feel like you're a girl even if you have body parts that some people might tell you are 'boy' parts. And you might not feel like you're a boy or a girl, but you're a little bit of both."
The lesson plan adds, "it is important to avoid assuming that all of your students' gender identities will match their sexual anatomy."
Fox 6 reports, "sixth-graders would define different types of sexual activity: 'vaginal, oral, anal sex and other forms of sexual activity (masturbation).' The same grade would learn about 'a range of identities related to sexual orientation (e.g., heterosexual, bisexual, lesbian, gay, queer, twospirit, asexual, pansexual).'"
Additionally, in this grade teachers will begin referring to girls as "a person with a vulva."
In High School, the kids will be learning about contraception.
The school board meeting about the lessons was packed with both supporters and those who opposed the plan, including doctors who argued that some of the teachings are not age appropriate.
"This is a dark day for Wisconsin students, who will be taught a curriculum that reduces them down to their body parts," Alexandra Schweitzer, president of No Left Turn In Education – Wisconsin, told the Daily Caller News Foundation. "No teacher should refer to their female students as 'students who will menstruate' or to their male students as 'penis owners.' This is a wholly inappropriate use of classroom time that ought to be spent on educational fundamentals."
The report from the Caller notes that "the curriculum has recommended reading for kindergartners such as, 'Not All Princesses Dress In Pink,' a children's book about how girls can jump in mud puddles and climb trees and don't have to always like girl activities. Educators are also instructed to read the kindergartners 'Sparkle Boy,' a story about a young boy who prefers to dress and act like a girl."
In Wisconsin, parents are able to choose to opt their children out of the sex education courses entirely.