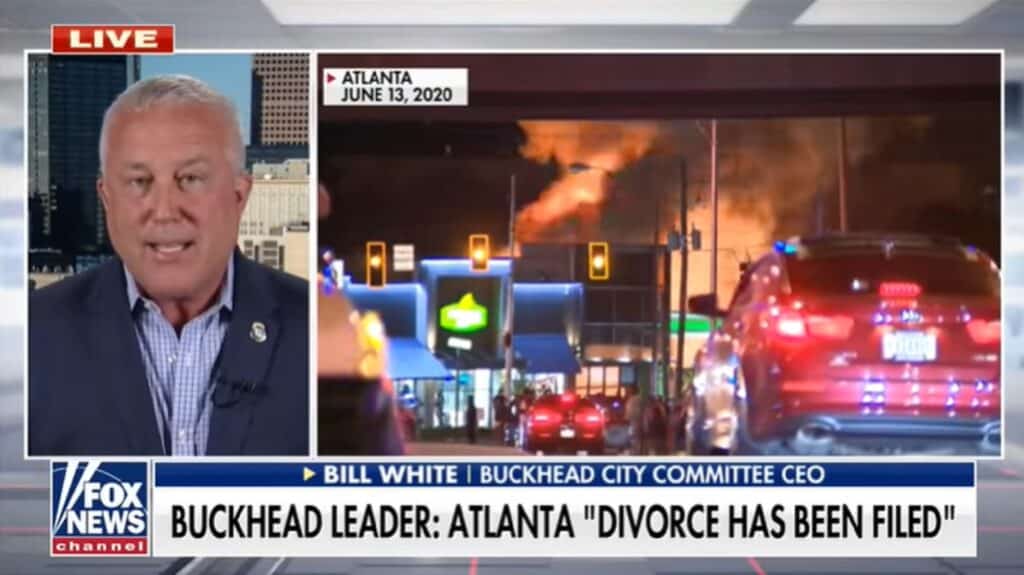 By Cassandra Fairbanks
The wealthy Buckhead suburb of Atlanta, Georgia has filed to secede from the city.
Residents are tired of the exploding crime rate and wish to create their own police force.
The movement for a "divorce" from the crime plagued city gained major momentum after a father-of-three was shot and injured while jogging in Buckhead on June 5, just after 8:30 a.m.
"We filed our divorce papers at the city of Atlanta and our divorce is final," Bill White, the CEO of the Buckhead City Committee, said in an interview with Fox News on Thursday.
White took aim at Atlanta Mayor Keisha Lance Bottoms, and other city officials, for demoralizing the police department and allowing crime to skyrocket in the area.
"They are just not paying attention to the crime. The leadership vacuum is substantial," White said. "I don't like saying anything bad about Mayor Bottoms. I'm sure she is a nice human being … but she has completely let our officers down."
Discussing the police, White said that they "feel demoralized, underpaid, underrecognized and being told not to fight crime in the way they would like to."
"We love the Atlanta police department but we'll form Buckhead City with its own police department, with significantly greater presence on the streets," White continued.
The Daily Mail reports that Mayor Bottoms did not respond to a request for comment about Buckhead, but "has remained active on other fronts this week, on Wednesday signing an order declaring all of Atlanta's city-owned bathrooms 'all-gender'."
According to an analysis of police data by WXIA-TV, from last year through last week, there has been a surge in crime citywide, but a larger surge in Buckhead.
The station found that robberies citywide are up 2 percent, but in Buckhead are up 39 percent. Aggravated assaults are up 26 percent citywide, but up 52 percent in Buckhead. Automobile larceny is up 27 percent citywide, but up 40 percent in Buckhead.
"People getting held up at gunpoint. People stealing catalytic converters in broad daylight," Chris Grossman, a businessman who can recite recent crimes in the vicinity of his restaurant, the Chastain, told the station.
The Mail reports that White has estimated nearly 80 percent of his community will vote in favor of the separation from Atlanta in a referendum expected to reach the ballot next year.
"Atlanta officials have opposed the idea to separate the wealthy, largely white neighborhood from the rest of Atlanta, which is predominantly black, arguing it would siphon away much of the city's tax base and, in turn, its budget," the report states.
Buckhead accounts for 20 percent of Atlanta's population, but more than 40 per cent of the city's assessed property value.
For corrections, please email [email protected]