Protesters gathered outside the Chinese Consulate and marched to the NBC studio in New York City to call for boycotts of the 2022 Winter Olympics being held in Beijing.
The protest was part of a global day of action, with protests in several major cities worldwide, including London, Oslo, Berlin, and Washington, DC.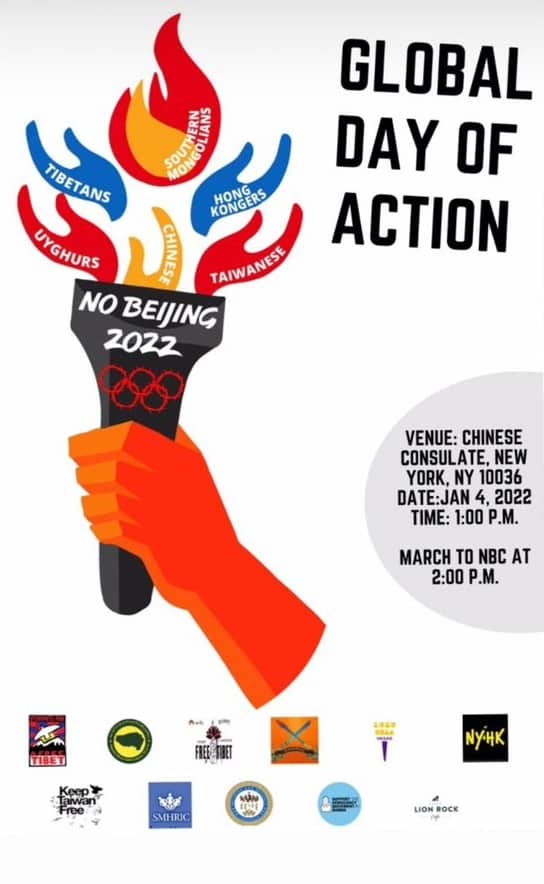 Organizers of the event said in a statement on their website that they are "calling on the International Olympic Committee to move Beijing 2022 to another Host City, or at least postpone the 2022 Winter Olympics until a new host city that can uphold the values of the Olympic Truce; "that all humanity is called upon to lay down its weapons and work towards building the foundations of peace, mutual respect, understanding, and reconciliation."
"To date, the IOC have entirely failed to listen to these calls despite the evidence of a genocide being carried out by the Chinese government, who are the Beijing 2022 Hosts," the statement continued. "We are therefore calling on Governments, National Olympic Committees, Olympic Sponsors, Athletes, and all people of conscience to boycott Beijing 2022."
The organizers added that, "participation in Beijing 2022 in any way is tantamount to endorsing China's genocide against the Uyghur people and legitimizing the increasingly repressive policies of the totalitarian Chinese regime."
Speaking to Timcast, one of the protesters said they are pushing for NBC, Coca Cola, and other corporations to drop their sponsorships and coverage.
"We shouldn't reward China," he said.