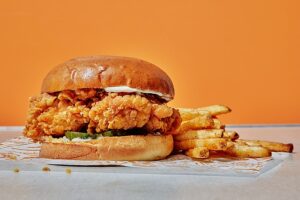 By Hannah Claire Brimelow
Fast-food restaurant Popeyes has been stockpiling frozen chicken in order to launch a new product amid increasing poultry shortages.
The company plans to roll out new chicken nuggets on July 27 and a lack of supplies would endanger this launch date. So, Restaurant Brands International Inc., the company that owns the popular chicken chain, has been buying frozen chicken in increased quantities over the last six months.
Typical restaurant industry practices have been disrupted by supply chain constraints. The price of chicken is on the rise after a year of production and distribution issues.
Labor shortages have also imposed major setback on the poultry industry. Additionally, winter storms in Texas, Arkansas, Oklahoma, Louisiana and Mississippi during 2020 left farmers dealing with power outages and extreme cold. The poultry farms in those states, which supply a bulk of the nation's chicken, were left with serious losses.
As of June 2021, data showed "U.S. producer prices for processed poultry jumped to an all-time high in May, climbing 2.1% in the eighth straight monthly increase."
Bloomberg reported "McDonald's Corp., KFC and Burger King have all recently introduced new chicken sandwiches. At U.S. restaurants, orders for chicken entrees were up 4% for the year ending in April 2021, according to market researcher NPD Group. Beef orders were down 14% and pork was down 18%."
The Popeyes chicken sandwich sold out in two weeks after its introduction in August 12, 2019. It trended on Twitter after the company's response to a tweet from Chick-Fil-A calling its product "the original" went viral.
… y'all good? https://t.co/lPaTFXfnyP

— Popeyes (@Popeyes) August 19, 2019
The sandwich, which was reintroduced in fall, is credited with the company's financial growth. Sales at all stores rose a combined 42% during the last three months of 2019 – totaling $1.3 Billion.
Popeyes Americas President Sami Siddiqui told Bloomberg News "Demand is very high right now, and consumer spending is surging. We're planning appropriately."
For corrections, please email [email protected]