National Public Radio has responded to being labeled on Twitter as "U.S. state-affiliated media," a description they are calling "untrue."
The platform added the label to the news outlet's Twitter account on Tuesday evening.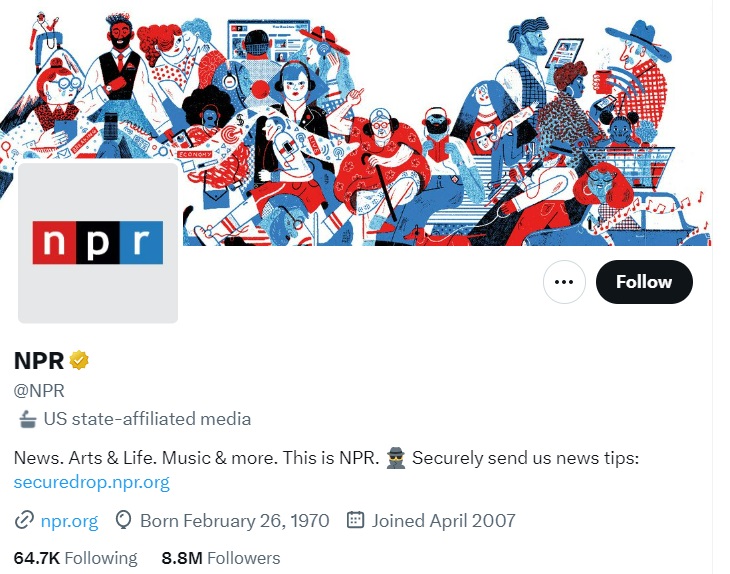 Twitter's guidelines on labeling state-affiliated accounts describe them as "outlets where the state exercises control over editorial content through financial resources, direct or indirect political pressures, and/or control over production and distribution."
The policy previously had an exception for NPR and the U.K's BBC News, saying "NPR and the BBC of Britain did not receive the label because they were "state-financed media organizations with editorial independence." That portion of the policy has since been removed.
John Lansing, the chief executive of NPR, immediately issued a response saying that he was "disturbed" by the label.
"NPR stands for freedom of speech and holding the powerful accountable. It is unacceptable for Twitter to label us this way," Lansing's statement continued.
On Wednesday, NPR released another formal response to the branding. While acknowledging that they do receive federal funding, the outlet claimed it doesn't count since it is only a small portion of their budget.
"NPR operates independently of the U.S. government. And while federal money is important to the overall public media system, NPR gets less than 1% of its annual budget, on average, from federal sources," NPR said. "NPR receives federal funds indirectly because they play a vital role in supporting member stations through annual grants from the Corporation for Public Broadcasting. But those stations also rely on audience donations and other revenue — and they purchase programs and content from across the public media ecosystem, not solely from NPR."
NPR also threw PBS under the bus, saying they had not received the label.
"As of Wednesday morning, Twitter had not applied the "state-affiliated" label to other outlets that directly or indirectly receive any public funds, such as PBS," NPR noted.
When NPR reached out to Twitter for an explanation about the new designation, they received an auto-reply with a poop emoji — something that Twitter has been doing with media requests since last month.
[email protected] now auto responds with 💩

— Elon Musk (@elonmusk) March 19, 2023
"In response to an NPR email for this story seeking comment and requesting details about what in particular might have led to the new designation, the company's press account auto-replied with a poop emoji — a message it has been sending to journalists for weeks," NPR said.
Oh ok, we'll take it off then

— Elon Musk (@elonmusk) April 2, 2023
Musk also removed the New York Times' verification badge earlier this month after the company said they would not pay for it.