Starting today, New York is temporarily suspending its gas tax, as gas prices across the nation inch toward record highs.
The suspension of the 16 cents-a-gallon fuel tax will remain in place through Dec. 31 and is projected to save New Yorkers a total of $609 Million in relief.
"Fuel prices have surged in recent months, hurting working families and small businesses the most, and it is crucial that we provide New Yorkers relief," Governor Kathy Hochul said in a June 1 press release.
"By suspending certain fuel taxes for the next seven months, New York is providing some $609 million in direct relief to New Yorkers — a critical lifeline for those who need it most. At a time when families are struggling because of economic headwinds and inflation, we will continue to take bold action to reduce the economic burden on New Yorkers and get money back in their pockets."
The average price of gasoline in New York has reached a record high of $4.934 per gallon, according to AAA. One year ago, the state's average gas price was only $3.075.
Across the nation, fuel prices have more than doubled over the last two years. While many blame the Russian invasion of Ukraine for the spike, gas prices began rising long before that, largely due to policies enacted by the Biden administration choking off domestic energy production, which caused uncertainty about the future in oil markets.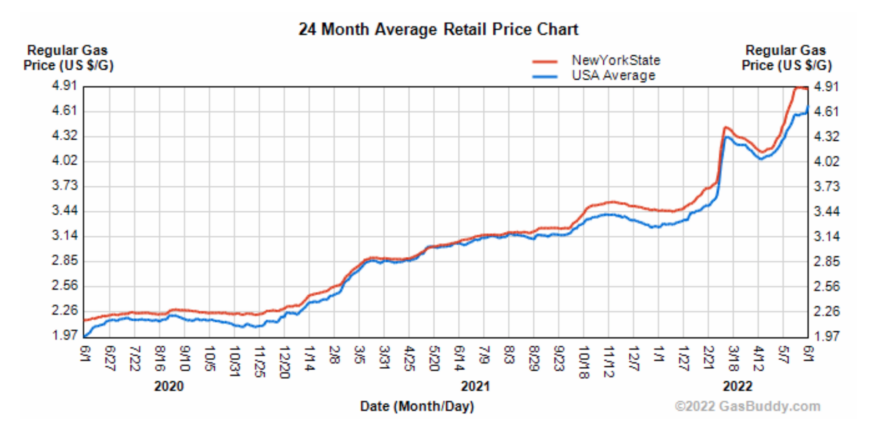 On his first day in office, President Biden canceled the permit for the Keystone XL pipeline construction. A week later, he signed an executive order that stopped new oil and gas leases on federal lands. Political advocacy group Americans for Prosperity compiled a list of 25 government policies they claim are directly responsible for surging energy costs.
New York's fuel tax holiday is aimed at giving American pocketbooks a break as the nation heads into peak driving season. However, Jeff Lenard, vice president at the National Association of Convenience Stores, wrote in a recent article that relief at the pump may not be immediately felt by consumers, as retailers are not eager to "drain their tanks" of fuel on which they have already paid taxes.
AAA has provided a list of "Tips & Tricks" to help drivers save on gasoline. Those suggestions include:
Make sure you are getting your car regularly serviced
Take your car to the shop immediately when the "Check Engine" light turns on
Keep tires properly inflated
Drive the speed limit
Try to minimize use of air conditioning