Judge Arthur Engoron, who is overseeing Donald Trump's fraud trial in New York, has issued a gag order after the former president attacked his principal clerk on Truth Social.
Trump made the post while he was sitting in the courtroom, just feet away from the judge.
The gag order bars the 2024 presidential candidate from posting or speaking publicly about members of the judge's staff members.
The judge, without naming Trump, said "one of the defendants" posted a "disparaging, untrue and personally-identifying post" about the staff member, which was sent to "millions of other recipients."
"Personal attacks on members of my court staff are not appropriate and I will not tolerate it under any circumstance," Engoron said, according to a report from The Hill.
The report explains, "In a Truth Social post that went up while Trump was sitting in the courtroom Tuesday, Trump targeted Engoron's principal law clerk — who was sitting just a few feet away — calling her 'Schumer's girlfriend,' that reposted a picture of her alongside Senate Majority Leader Chuck Schumer, a fellow New York Democrat."
Trump wrote, "Schumer's girlfriend, Alison R. Greenfield, is running this case against me. How disgraceful! This case should be dismissed immediately!!"
The post also linked to her personal Instagram account, where the photo was located. Her account has since been set to private.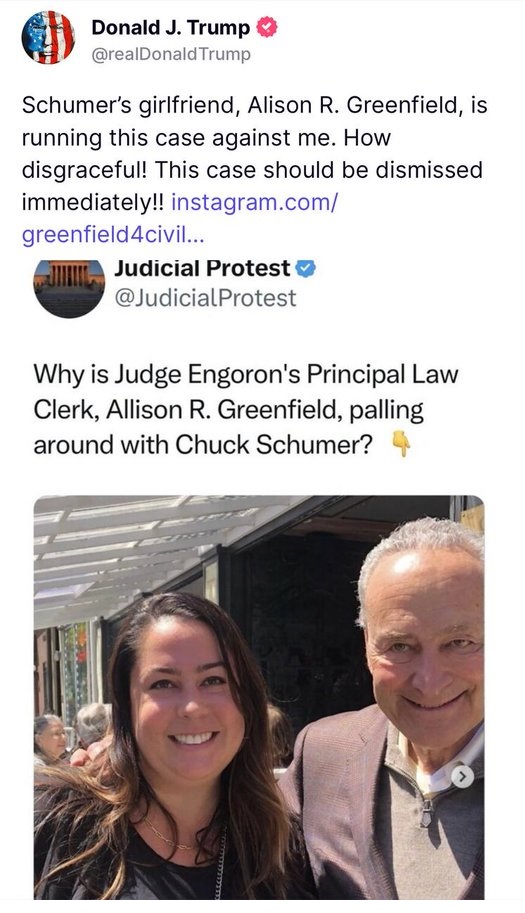 The Truth Social post has since been deleted.
Schumer's relationship to the clerk remains unclear, and his office has not yet commented on the allegation.
Schumer has been married to Iris Weinshall, the chief operating officer of The New York Public Library, since 1980.