Minneapolis Public Schools is hosting a "gender resource fair" at an elementary school and will feature a drag queen story hour.
A transgender activist doctor, Angela Goepferd, will also be speaking about how to support "young transgender children."
The event is scheduled for April 13 at Loring Elementary, which covers pre-kindergarten through fifth grade.
"We're hosting a gathering for families and their gender creative young ones!" a promotional flyer for the event states. "Join us for community resources, entertainment, food, games and more!"
Goepferd will be speaking to adults while the drag queen story hour takes place for children, meaning that they will be separated from their parents during that time.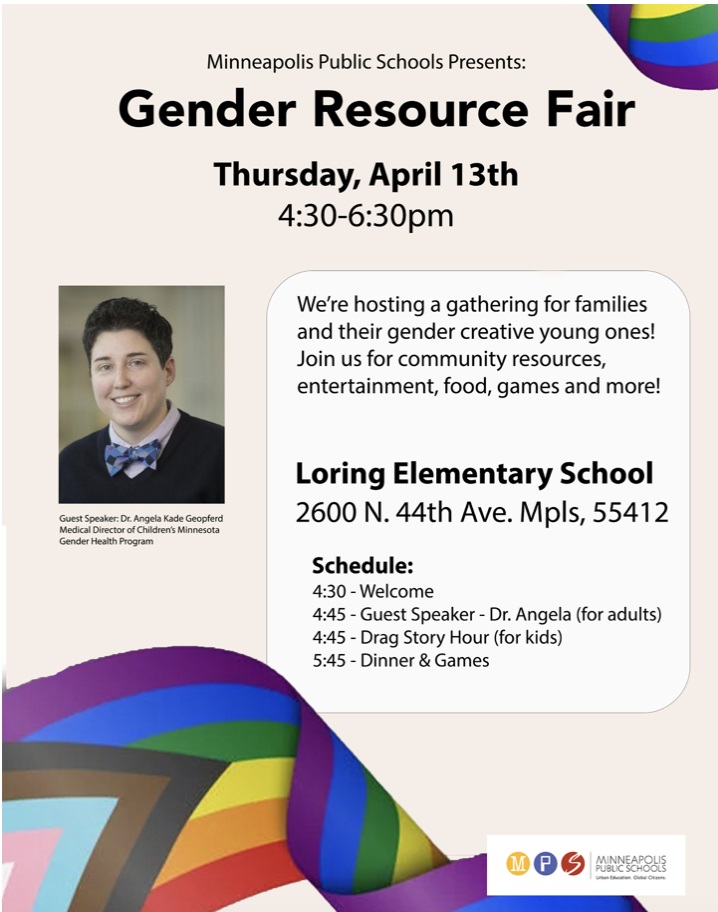 According to a report from the Washington Free Beacon, "Goepferd has been a vocal supporter of Minnesota's proposed 'trans refuge' bill, which the Minnesota House passed last week and would allow children from other states to receive sex-change surgeries and puberty blockers in the state. The activist in January testified in support of the bill at a Minnesota House hearing."
Conservative legal experts and advocacy organizations are warning that the way that the "trans refuge" bill is written means that Minnesota parents can lose custody of their children if they do not consent to sex change procedures, puberty blockers, or hormones.
"The most insidious aspect of this bill is the language that adds children who are being denied 'gender-affirming care' (defined as everything from therapy to hormone blockers, to transition surgery) to what amounts to the definition for a child 'in need of protection or services' in Minnesota, allowing the courts to take 'emergency custody' of the child," Bob Roby, a licensed attorney in Minnesota with more than 30 years experience in family and juvenile court, told Fox News.
"This kind of court power has a long-standing precedent in Minnesota for keeping children safe. When a child is at risk of being harmed by a parent or custodian, the State has immediate authority to remove and protect the child from harm. Without this, there would be no way to protect children in those situations," Roby continued. "To add children who are being denied 'gender affirming care' to the definition of children in need of this kind of drastic emergency action is obviously unwarranted."
The Free Beacon noted that Loring Elementary ranks in the bottom 50 percent of schools in Minnesota for test scores, receiving a 1 out of 10 ranking by the Public School Review, and only 42 percent of students at the school are proficient in math and reading for their grade levels.