A leaked Twitter company email is urging employees to stay home and await instructions in their inbox about their future — or lack thereof — at Twitter, as announcements about mass layoffs are expected today.
According to the memo, all employees should receive an email by 9:00 a.m. PST alerting them to their future at Twitter. Those who will be continuing on under Musk's leadership can expect to receive an email to their regular work email. On the other hand, those who will no longer have a role in Twitter's future will receive a message to their personal email address explaining that they have been let go and what steps to follow next.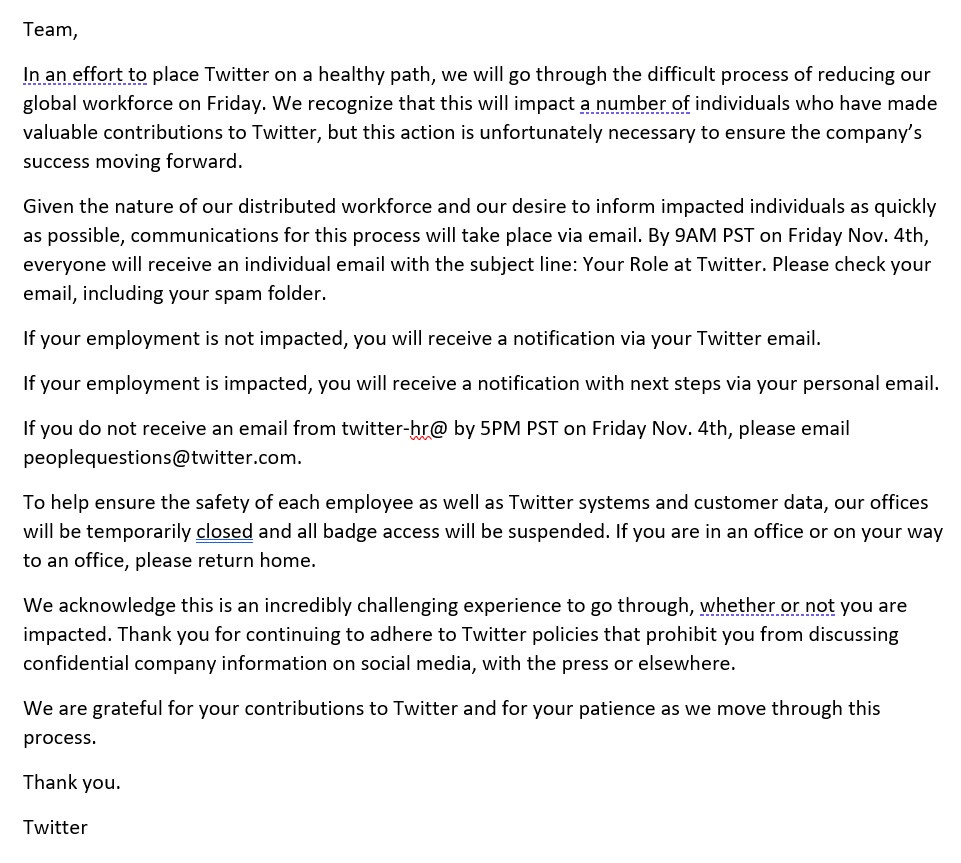 The announcement, which offered the company's sympathy to those who "made valuable contributions to Twitter" but still must be let go "to ensure the company's success moving forward," said that employees should be on the lookout for an email with the subject line "Your Role at Twitter."
The memo also urged Twitter employees to stay home from work while the layoffs are being processed and told those currently present on company property to leave for the time being. "To help ensure the safety of each employee as well as Twitter systems and customer data, our offices will be temporarily closed and all badge access will be suspended," the email warned. "If you are in the office or on your way to an office, please return home."
Some employees have already been shown the door and have announced their surprise departures with Tweets showing their work computers remotely locked with a message to check their personal emails or contact human resources.
And wow @elonmusk this is just one shi*y way to tell your employees they are fired. Wow! #Twitter #TwitterLayoffs #Tweeps #OneTeam pic.twitter.com/7mgOPJx7dB

— Marwa Hassan 𓂀 💉x4 (@Marwa_G_H) November 4, 2022
Looks like I'm unemployed y'all. Just got remotely logged out of my work laptop and removed from Slack. #OneTeam forever. Loved you all so much.

So sad it had to end this way 💔

— Simon Balmain  (@SBkcrn) November 4, 2022
Lisa Bloom, in a thread marketing herself as a California "employment attorney," laid out her argument for why the terminations might be in violation of California's WARN Act, which requires businesses undergoing a restructuring to notify employees 60 days in advance of a mass layoff. According to Bloom, the law applies to California companies that employ more than 75 people in the state and was designed to give employees time to adjust and plan for their futures. Violations of the WARN Act face steep civil penalties — for each terminated employee covered under the act, a $500 per day penalty is assessed.
Hey Twitter employees getting laid off tomorrow! IMPORTANT INFO from a CA employment attorney (me):

CA's "WARN" law requires Twitter to give you 60 days notice of a massive layoff.

A layoff of 50+ employees within a 30 day period qualifies.

I know you didn't get that notice.

— Lisa Bloom (@LisaBloom) November 4, 2022
"Employees laid off in violation of the WARN Act receive back pay at the employee's final rate or 3-year average of compensation, whichever is higher. Twitter would also be liable for workers' medical expenses that would have been covered under an employee benefit plan," Bloom said. She then warned Twitter that the removal of her posts would indicate that Twitter was aware of the law she cited and constitute "consciousness of guilt."
Already, at least one law firm has filed a lawsuit against Twitter and requested that a temporary restraining order be issued to prevent Twitter from convincing any employees to sign documents that may waive their rights under the WARN Act. Shannon Liss-Riordan, a labor attorney who has only just dusted herself off from her defeat in the Democrat primary for Massachusetts' attorney general, is responsible for filing the litigation.
"We filed this lawsuit tonight in an attempt to make sure that employees are aware that they should not sign away their rights and that they have an avenue for pursuing their rights," she said. The lawsuit will not be her first bout in the ring with Musk's legal team — in June, she lost in her effort to fight Tesla's decision to layoff 10% of its employees.
Others have indicated that Musk's legal team has likely seen around the WARN Act issue and suggested that Musk intends to keep "terminated" employees on Twitter's payroll for the next 60 days before officially parting ways with them. In the meantime, those staffers would be locked out from accessing Twitter's data, but would technically still be employed.