A Georgia police department is being accused of "homophobia" for posting the mug shots of five black men who were arrested during a sex sting in a park.
The men were "arrested in broad daylight" while engaging in sexual activity at Sykes Park, a popular family destination in East Point.
The East Point Police Department said in a now-deleted Facebook post that all five men were charged with "public indecency and loitering for prohibited behavior."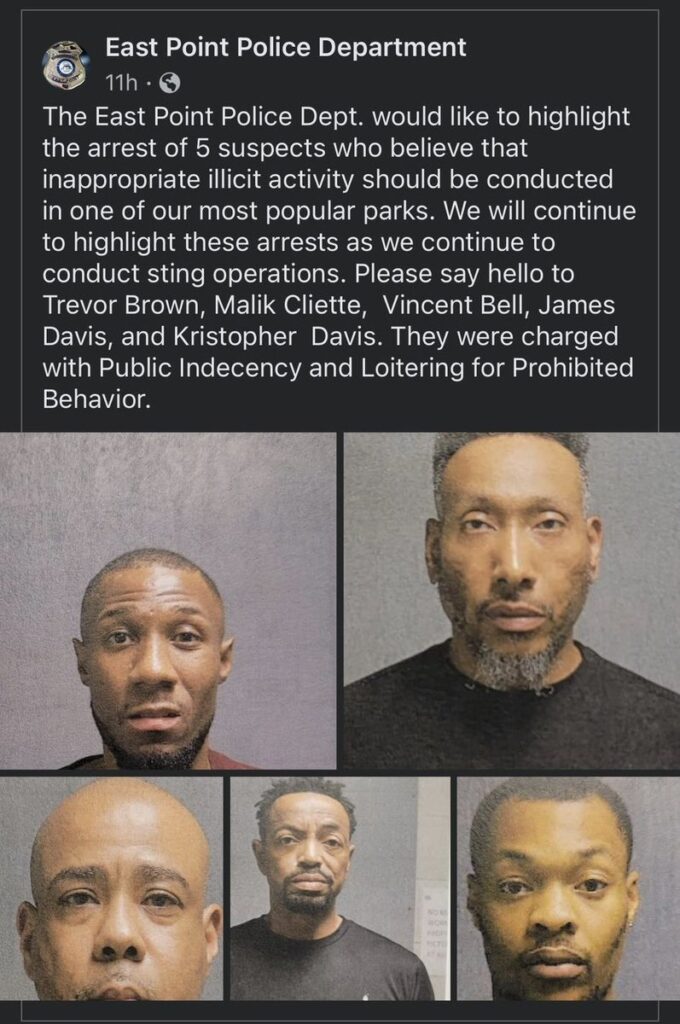 According to a report from 11 Alive, "People are allegedly having sex on tables, in the woods, and throughout Sykes Park in front of children, according to East Point Police."
"East Point Police said what's happening in a public park is causing them to get hundreds of monthly calls from upset residents, leading to nearly two dozen arrests," the report continued. "Many have also shown up to discuss their concerns at city council meetings."
East Point Police Sgt. J. Watkins told the station that they have been monitoring social media and using meetup sites to set up stings.
"My major concern is for the kids," Watkins said. "I mean, they don't need to see this kind of stuff in public at all, as is already shown enough on TV."
Watkins has urged people who witness public sex acts at the park to call 9-1-1.
"We're not going to tolerate such acts in our in our city with the youth that are there trying to play and have fun and disrupt family lives," Watkins said.
Though none of the posts or comments from the department mention the suspect's sexual orientations, activists pounced on the opportunity to call foul.
Dr. T. Anansi Wilson, a professor at the Mitchell Hamline School of Law in Saint Paul, Minnesota, responded to a post on X about the department's post saying that "mugshots as we know them began as fliers for runaway enslaved people & later antiBlack propoganda after reconstruction."
The crazy thing is, mugshots as we know them began as fliers for runaway enslaved people & later antiBlack propoganda after reconstruction . They also disproportionately continue to mark Black people as criminal, long before and after any criminal proceedings or findings of guilt… https://t.co/ZfYBWpQ1Ku

— Dr. T. Anansi Wilson JD/PhD (@blaqueerflow) October 3, 2023
"The clear homophobia of the FB post is underscored by the fact that, despite multiples shootings & mass sex trafficking, these are the only mug shots the police has posted in almost two years, the others being child murderers," Wilson continued. "Perhaps we should use the powers of policing less to surveil & publicly shame wayward, 2am c+m shots & masturbation sessions and more to you know prevent violent crime….but yea, let's protect our virgin eyes from such harrowing, debilitating scenes."
Chief Shawn C. Buchanan responded to the outrage with a Facebook post saying that the mug shots have been removed and that the "department does not engage in discrimination or harassment of any group, or class of people. We believe in fairness and equality for all."
"Parents cannot walk their kids in the park. Children cannot walk their dogs are playing in a park. Citizens cannot enjoy a peaceful day in the park," Buchanan wrote, adding that people had been "terrorized" by the sex pests. "We have made arrests, upgraded patrols, and assigned officers to that park, all to no avail. We post pictures of arrested persons as a last resort effort to discourage illegal behavior and activity. This practice is not new, and is in fact employed in several jurisdictions."
"We do not want any group of people to believe we are targeting them," he continued. "At no point have we mentioned any lifestyle in the post, nor are we aware of these individuals' lifestyles…. The lewd behavior in the park has caused some residents to threaten to take actions into their own hands. We value the safety of all of our citizens and highly discourage any violence on any individuals…. I truly wish all readers could understand the gravity of this matter."
The comments were soon flooded with people claiming that there is a bias in what kind of mugshots the department posts.
One response read, "This department has posted no other mugshots – not of murderers, child predators, domestic abusers – since a single mugshot back in early 2022. They chose this one incident to post mugshots of in order to shame and potentially force these individuals out of the closet."
Another said, "East Point Police Department you want everyone to safe but you haven't posted a single murderer, domestic abuser or pedophile. Ok East Point, we see you. Also, no one is arguing that they shouldn't have been arrested. They def should've been. You were wrong because you wanted everyone to look and laugh at the gays. Hope you get every lawsuit coming your way."