Last week, the Florida Department of Education (FLDOE) announced that it would be rejecting 41% of math textbooks due to the inclusion of Critical Race Theory but has continued to come under fire from those asking for examples of why the decision was made. 
The FLDOE released four examples of the content in question.
"Based on the volume of requests the Department has received for examples of problematic elements of the recently reviewed instructional materials, the following are examples provided to the department by the public and presented no conflict in sharing them," says the DOE on its website.
According to the FLDOE, the examples do not represent the exhaustive list of input received. They also stated that they have allowed publishers to "remediate all deficiencies identified during the review to ensure the broadest selection of high-quality instructional materials are available to the school districts and Florida's students."
In one of the images provided by the FLDOE, the example shows a math problem based on data that tests people on their level of racial prejudice.
"What? Me? Racist? More than 2 million people have tested their racial prejudice using an online version of the Implicit Association Test… in this section's Excercise Set (Exercises 103 and 104), you will be working with models that measure bias."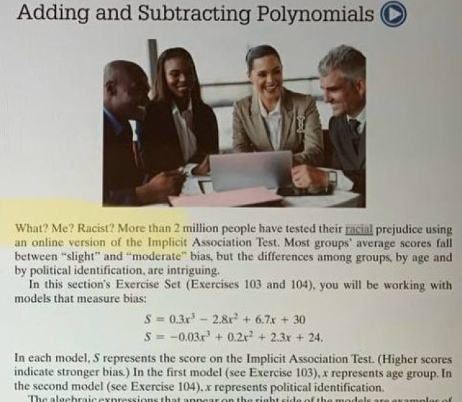 The FDOE said many of the books were not aligned with the state's Benchmarks for Excellent Student Thinking or BEST.
However, it also stated that it had chosen to reject textbooks that "included references to Critical Race Theory (CRT), inclusions of Common Core, and the unsolicited addition of Social Emotional Learning (SEL) in mathematics."
The department did note that they were adopting 78 out of 132 textbooks submitted.
In their statement, the FDOE noted that its review process was intended to ensure "inappropriate, ineffective, or unsolicited concepts and strategies" were not accepted in approved instructional materials. 
In 2019, Governor Ron DeSantis signed an executive order for Florida schools that was focused on eliminating Common Core, developing higher education standards, and increasing the quality of instructional materials.
"It seems that some publishers attempted to slap a coat of paint on an old house built on the foundation of Common Core, and indoctrinating concepts like race essentialism, especially, bizarrely, for elementary school students," said Governor DeSantis.