The Florida Board of Medicine met to discuss what gender transition-related care can be legally offered to minors following a directive from Surgeon General Joseph Ladapo.
The Department of Health filed a petition with the board last week asking for a standard to be set regarding what types of medical intervention are permitted when treating patients under the age of 18 who identify as transgender. The petition requested the board, which regulates medical doctors in Florida, to prohibit physicians from offering surgical gender alternation as well as hormone treatment, including puberty-blockers, supplementary testosterone, or supplementary estrogen.
The petition states that the "lack of quality evidence and certainly no conclusive research to support the medical transition of children to the opposite gender as a treatment for gender dysphoria" supports the prohibition, per Creative Loafing Tampa Bay.
"Children do not possess the cognitive or emotional maturity to comprehend the consequences of these invasive and irreversible procedures," read the petition signed by the state's Department of Health General Counsel John Wilson.
"The current standards set by numerous professional organizations appear to follow a preferred political ideology instead of the highest level of generally accepted medical science," according to the document. "Florida must do more to protect children from politics-based medicine. Otherwise, children and adolescents in our state will continue to face a substantial risk of long—term harm."
The petition also requests a 24-hour waiting period be enacted for those seeking treatment related to gender dysphoria.
Prior to its Aug. 5 meeting, the board released over 1,000 pages of documents related to gender dysphoria and its treatment on its website. The meeting began at 8 A.M. and opened for public comment around 2 P.M.
Sophia Galvin from Miami spoke in favor of the petition. The twenty-two-year-old has been detransitioning for the last two years. Galvin said she was supported by her peers and educators when she began her transition in high school, where she served as the president of an LGBTQ student organization.
Galvin underwent years of hormone therapy and a double mastectomy but still struggled with mental and emotional issues.
Galvin said she feels her gender identity stemmed from childhood trauma and only began to feel relief after converting to Christianity. She stopped taking testosterone at the age of 20 and no longer identifies as a transgender man.
"If I could have known then what I know now, I never would have made the decision to transition," she told the board.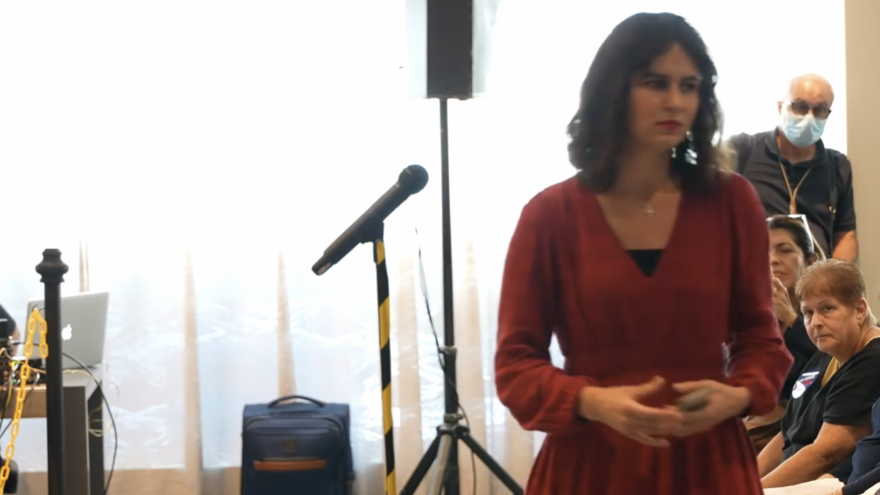 The petition comes after Ladapo rejected guidelines from the federal government that required medical treatment to be offered to children who are experiencing gender dysphoria
"It was about injecting political ideology into the health of our children," Ladopo said during an April 20 statement regarding the guidelines. "Children experiencing gender dysphoria should be supported by family and seek counseling, not pushed into an irreversible decision before they reach 18."
A group of physicians from Yale University, the University of Alabama at Birmingham and the University of Texas Southwestern sent a letter to the Board of Medicine's chairman David Diamond on July 14 arguing the ban would constitute discrimination and "harm tens of thousands of Floridians."
"We are concerned that any action by the Board (of Medicine) to ban or curtail standard medical care in Florida for individuals with gender dysphoria would set a troubling national precedent," the group wrote, per WUSF.
The doctors also claimed the Department of Health made false statements and included inaccurate data in its petitions.
The Human Right Campaign has accused the Florida Department of Health of pressuring the board to act against "their best medical judgment" and inhibit access to "life-saving care for transgender youth and adults" out of political motivation.
"Science, medicine, and evidence-based approaches have demonstrated time and time again that transition-related care is medically necessary and life-saving care, and if this proposal is adopted, it will go against the recommendation of every major medical association," said the HRC's Legal Director Sarah Warbelow in a statement. "The truth matters and so does protecting Florida's youth and their families."