Sources close to Ye, formerly known as Kanye West, tell Timcast that the potential Republican presidential candidate was in talks to meet with President Vladimir Putin in Moscow on Dec. 15, 2022.
Those involved with Ye said that the world leader and likely candidate were set to discuss a range of issues, but most pertinent to the conversation would have been the release of Brittney Griner—the American citizen and WNBA athlete, who was, up until today, imprisoned in Russia for the possession of cannabis.
Now that Griner has been released due to a prisoner trade between the United States and Russia, the meeting between Ye and Putin is no longer happening. Sources close to the planning told Timcast that Russian officials are in receipt of the following letter and were expecting Ye's arrival.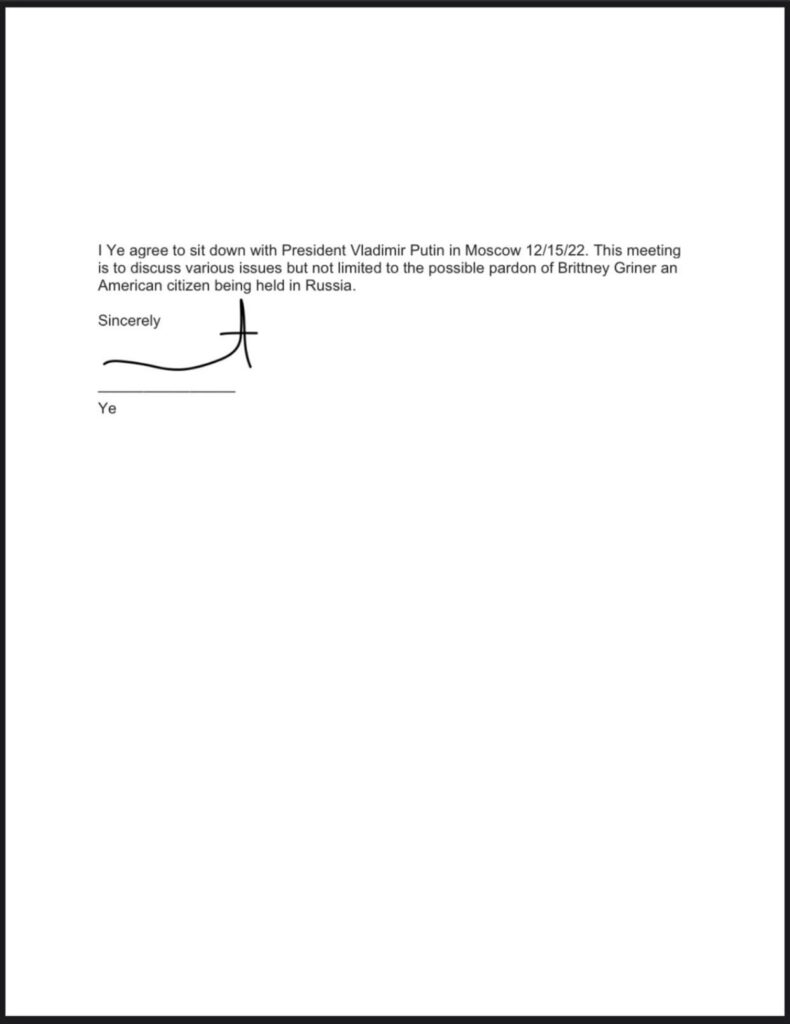 These sources added that when Ye and Nick Fuentes first met three weeks ago, a conversation was had about normalizing the United States' relationship with Russia, North Korea, and Iran—while also thinking about contrasting himself from the totalitarian nature of these regimes. Allies had begun arranging these discussions with Russian officials weeks prior to today.
Ye was prepared to do this trip, the sources claim, as stated in the signed document included in this article. The sources also believe that the Russian government may have been working through multiple American channels, and are considering whether or not it is possible the Russian government was attempting to embarrass the Biden administration by working with Ye.
Ye was not being paid by anyone, including Griner's family, to have these conversations with Putin — according to those with knowledge of the alleged discussions.
Those close to the artist and mogul explained that Ye is inspired by some of the efforts made by former President Trump in touting diplomacy in areas of the world that are otherwise in peril. Before his ban from Twitter, Ye tweeted his support of the protests in Iran.
Other sources close to Ye's possible presidential bid told Timcast: "What's happening in Ukraine is not good for the world." They also shared that it was around the same time that Ye and Fuentes first started discussing relationships with Russia that Ye had received a call from Wack 100, a hip-hop record label executive, who expressed his own concern over the Griner situation.
According to these sources, Wack had been talking to Russian officials with the help of nonprofits in an attempt to gain Griner freedom. In these discussions, Ye's name was brought up, and the officials began to take the conversation more seriously. Supposedly, when Wack 100 brought this to Ye, the musician was immediately interested and offered to help. They told Timcast that Ye expressed he believed helping to free Griner was consistent with his policies.
They told Timcast that Ye is interested in de-escalation and wants to find a path forward to peace, pinning him against the neo-conservatives in the Republican Party.
"He is currently having various conversations with many political commentators to help inform his domestic and international policies," one of the sources said. "We're not just sitting around talking about ballot harvesting and caucuses, we are focused on how to help shape America's stance in the world."
That said, Ye is still interested in helping to secure the release of any American citizen currently imprisoned abroad. These sources added that Ye is having policy discussions about both domestic and international efforts.
"We're open to anything about freeing all Americans everywhere," a person involved with exploring a campaign told Timcast when asked if Ye would consider still making the trip to discuss former United States Marine Paul Whelan, who remains imprisoned in Russia.
Those close to Ye also told Timcast that there was a dispute amongst Ye, Fuentes, and Karen Giorno over whether or not Ye should tweet positively about US relations with Russia in the weeks leading up to the possible meeting in Moscow.
Giorno, the sources claimed, pushed back against Ye because they said she believes "Putin is a war criminal as defined by the state department."
Fuentes told Timcast, "Ye is pro Putin. He is very interested in Eastern Orthodox Christianity… Ye's intuition is correct, we want peace. We do not want war. He wants world peace."
EDITORS NOTE: Following the publication of this article, Giorno reached out to Timcast and denied saying that "Putin is a war criminal as defined by the state department" on the phone call. Another person on the call said that Giorno "cautioned against rushing into meeting the Russian president" but said she never used those words.