A Connecticut school is being criticized for sending eighth-graders an assignment requiring them to compare their preferred pizza toppings to their sexual preferences.
The school is now calling this assignment a mistake.
Students at John F. Kennedy Middle School in Enfield recently received the "Pizza and Consent" assignment. The assignment asked students to compare their favorite pizza toppings to their favorite sex acts.
"We can use pizza as a metaphor for sex," the assignment says.
"When you order pizza with your friends, everyone checks in about each other's preferences, right?… The same goes with sex," the assignment continues.
The assignment, provided in the online educational portal, then provides students with a section to list their favorite pizza toppings and their favorite sex acts, "Here are some examples: Likes: Cheese = kissing, dislikes: Olives = Giving oral."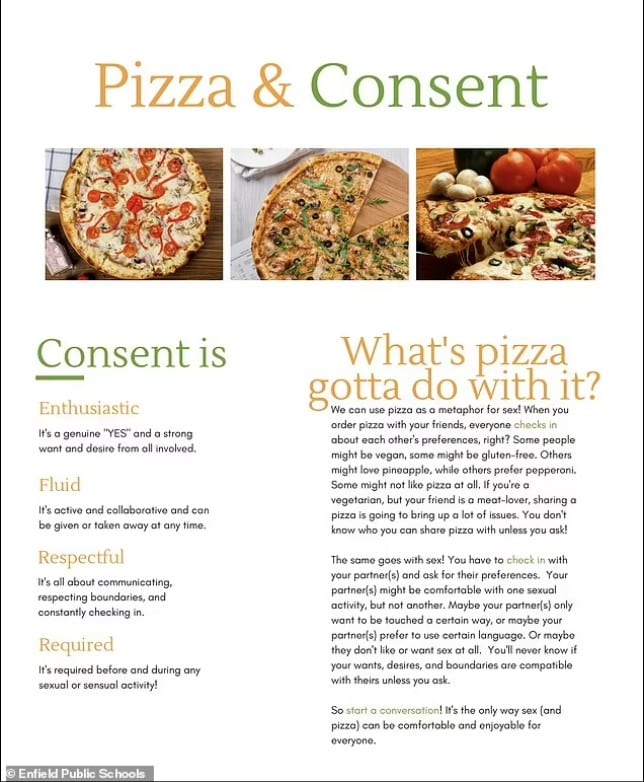 The eighth-grade assignment goes on to state, "draw and color your favorite type of pizza. What's your favorite style of pizza? Your favorite toppings? What are your pizza no-nos? Now mirror these preferences in relation to sex."
It concludes with, "for those of y'all who don't like pizza or sex at all, feel free to draw out another food favorite, or include non-sexual activities."
According to FOX News, the assignment was deleted from the Enfield School District's website, and officials are saying it was sent out "by mistake." 
Many parents reacted to the assignment with concern and have chosen to speak out.
One woman posted a video to YouTube saying that she would like to ask the School Board, "Since when has it become acceptable for a teacher to ask a student what their sexual wants, desires, and boundaries are?"
Another parent said, "I'm not sure how a teacher accidentally asks for the personal sexual preferences of 8th graders without any indication it is completely inappropriate to do such a thing?"
"The incorrect version, as opposed to the revised version of this assignment was mistakenly posted on our Grade 8 curriculum page, and was inadvertently used for instruction to Grade 8 Health classes," Brie Quartin wrote, according to Parents Defending Education. 
"I caught the error after our curriculum revision in June but failed to post the intended version. I own that and apologize for the error," Quartin continued.
At a school board meeting on Tuesday, Superintendent Christopher Drezek again told parents it was "inadvertently" sent out to the eighth-grade students.