In a letter issued Monday by the California Department of Justice to the Black Lives Matter Organizations, the group is accused of failing to submit its annual financial reports and is in delinquent status.
The founders and leadership of Black Lives Matter may well be held personally liable if they continue to fail to disclose financial records regarding the charity's $60 million in donations within 60 days.
The letter, which the Washington Examiner obtained, threatened that "directors, trustees, officers, and return preparers" would be "personally liable" for all penalties, interest, and other costs incurred to restore exempt status. 
Attorney General Rob Bonta issued the letter on Monday.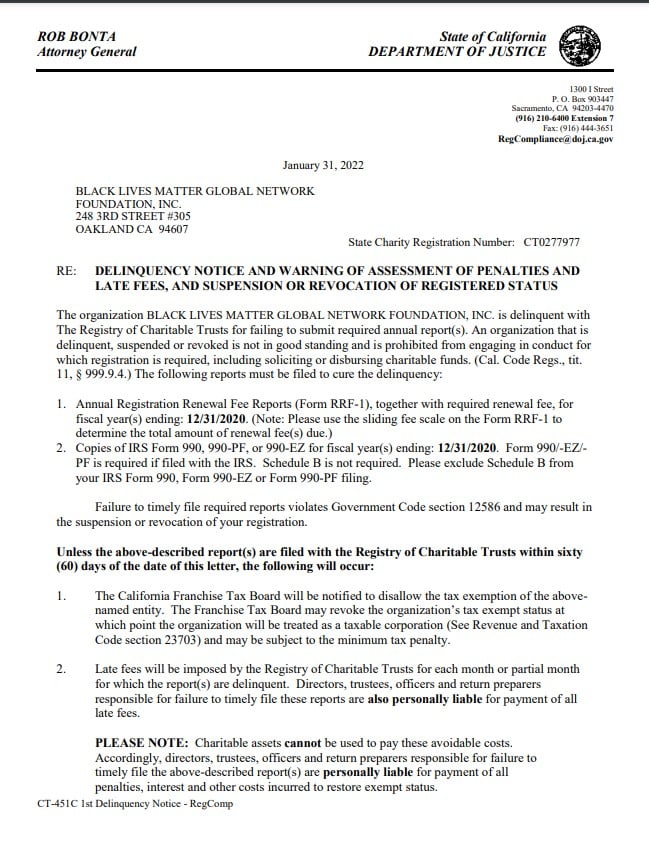 The DOJ letter and policy clearly states that "charitable assets cannot be used" to pay these costs and penalties.
"An organization that is delinquent, suspended or revoked is not in good standing and is prohibited from engaging in conduct for which registration is required, including soliciting or disbursing charitable funds," the letter reads.
If BLM fails to submit these documents within 60 days its charity exemption status will be revoked. The result will also cause the founders and directors to face fines for each month the report(s) are delinquent.
The DOJ notice came days after it was disclosed that BLM has not had anyone in charge of finances since co-founder Patrisse Cullors resigned in May of 2021.
All three of its founding members, Cullors, Alicia Garza, and Opal Tometi left the organization. There is no clear understanding of who is currently in charge of the organization's leadership or finances.
Cullors stepped down as director of the Black Lives Matter Global Network last year amid media coverage of her $3.2 million in property purchases. The scrutiny began after reports that the group transferred $6.3 million to Cullors spouse, Janaya Khan, to purchase a mansion in Toronto in 2001.
The California DOJ warning follows an order from Washington state requiring BLM to "immediately cease" fundraising in the state due to its current delinquency and lack of transparency regarding finances.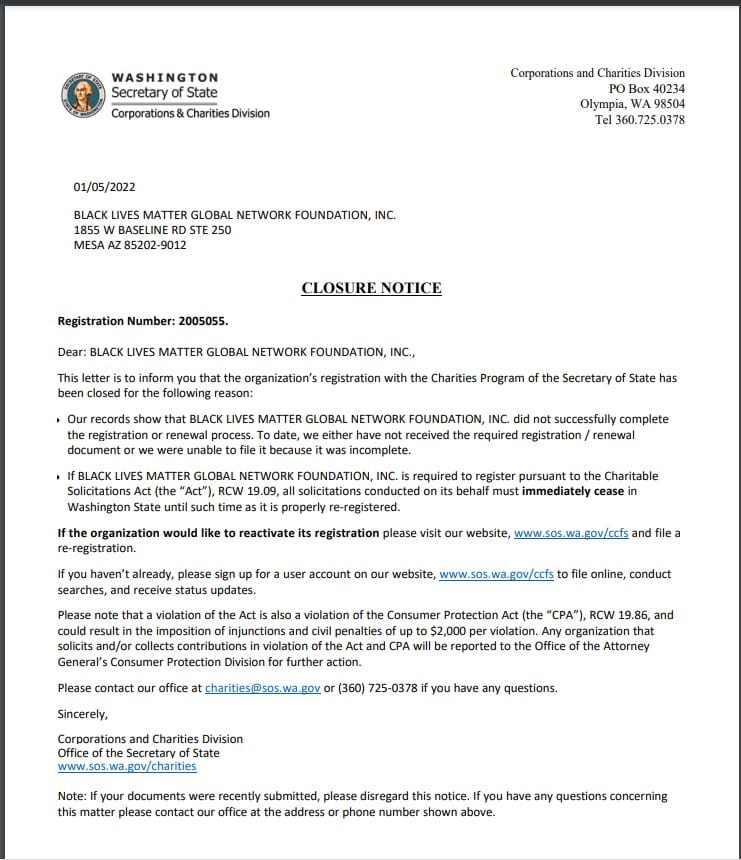 The Washington Examiner has alleged that BLM continues to solicit and receive contributions from Washington state residents despite the order.
The National Legal and Policy Center is reportedly preparing to file a complaint against the charity. 
"The National Legal and Policy Center will be filing a formal complaint with the Attorneys General of Washington and California to impose the maximum penalties on BLMGNF for their flagrant and repeated violations of the charity disclosure laws in those states, and it seems in many others," attorney Paul Kamenar said Tuesday.