Dr. Anthony Fauci's National Institute of Allergy and Infectious Diseases has canceled its plans to spend $1.8 million on cruel and wasteful experiments on dogs after an exposé from taxpayer watchdog White Coat Waste.
Documents obtained by White Coat Waste through a Freedom of Information Act request in May exposed that the NIAID was planning to conduct a series of five painful and unnecessary experiments regarding runny noses on the dogs between now and August 2023.
In response, Republican Senator Joni Ernst sent a letter to Dr. Fauci demanding answers about the spending and their plans.
"I understand that at least five different NIAID-funded tests on dogs, including puppies as young as six months old, are planned for this drug and will involve invasive, painful, and potentially deadly procedures. This taxpayer-funded dog testing commissioned by NIAID appears to be unnecessary," Rep. Ernst wrote.
In response, Fauci wrote to the congresswoman that the tests, as they were originally planned, have been cancelled and they would now be using rodents instead.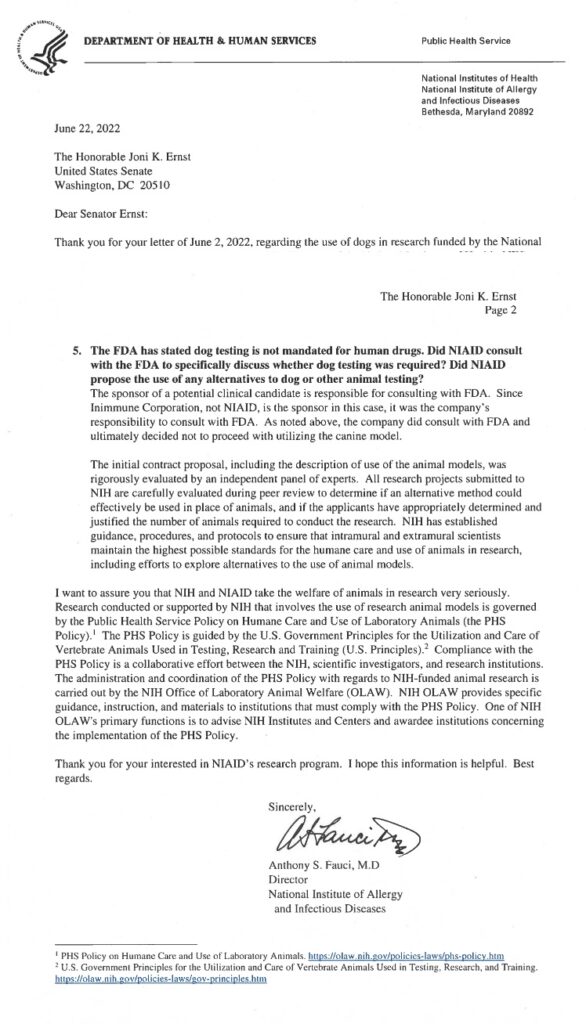 "Although the contract to Inimmune Corporation proposed the use of murine and canine preclinical animal models, after consultation with the U.S. Food and Drug Administration (FDA), the company elected to proceed using two rodent models only," Fauci wrote. "No experiments utilizing the canine model are being conducted under this contract."
Fauci defended the tests by writing that 60 million people in the United States have seasonal allergies "and many patients do not achieve adequate relief with available medications, resulting in substantial social and economic burdens."
Great news! We stopped Dr. Fauci's inhuman taxpayer-funded dog experiments!

What a huge win for animal-lovers and taxpayers across America. https://t.co/6yc1rn0090

— Joni Ernst (@SenJoniErnst) July 5, 2022
"We're thrilled that following White Coat Waste Project's latest #BeagleGate investigation and outstanding advocacy by Senator Joni Ernst, Dr. Fauci's $1.8 million 'runny nose' experiments on beagle puppies have been completely canceled. This is a decisive victory in the War on Waste, and sends a message to big-spending white coats across the federal government: taxpayers should not be forced to pay for wasteful, unnecessary, and cruel experiments on puppies and other animals," Devin Murphy, Public Policy and Communications Manager at White Coat Waste Project, told Timcast.
Sen. Ernst said in a statement provided to Timcast that "Fauci was barking up the wrong tree" with these tests.
"Dr. Fauci was barking up the wrong tree when he decided to use government dollars on dog testing," said Senator Ernst. "These inhumane practices have no place in our government – much less on the taxpayer's dime. Thankfully, after voicing our concerns and shining a light on these heinous tactics, taxpayers can rest easy knowing their hard-earned money is not going towards dog abuse."
There is currently bipartisan legislation that has been introduced called the Preventing Animal Abuse and Waste (PAAW) Act (HR 6186) that seeks to defund all painful experiments on dogs conducted and funded by Fauci's NIAID.
According to WCW, the PAAW Act would also shed light on the scale of NIAID's experiments, by requiring a report on "all ongoing or prospective research that causes significant pain or distress to a dog conducted or supported by the National Institute of Allergy and Infectious Disease."
A 2021 poll found that 62 percent of Republicans, 64 percent of Independents, and 71 percent of Democrats support ending taxpayer funding for dog experiments.