Law enforcement in Minnesota is planning to charge an Instacart driver who ran over an elderly couple's groceries because they had a pro-police sign at their home.
The Blaine Police Department said in a statement that charges are likely in the "near future."
On December 6, a couple had placed an order with Instacart. When they were notified that the driver was almost there, they went out to the driveway to meet them because they were worried about the snow in the driveway.
"When the couple opened the front door, the delivery driver yelled back at them to check inside of their Christmas wreath. They also reported the driver was driving back and forth in the driveway. Upon checking inside the wreath, they located the receipt from the grocery order with a derogatory message," the statement from Blaine Police explained.
Though the police did not elaborate on what the note said, a woman named Amber Gray who claims to be a relative of the elderly couple posted a photo of it on Facebook. It said, "Instacart doesn't pay employees Sry find another slave f— the racist police pigs."

Gray also posted a screenshot of the driver, named "Tara."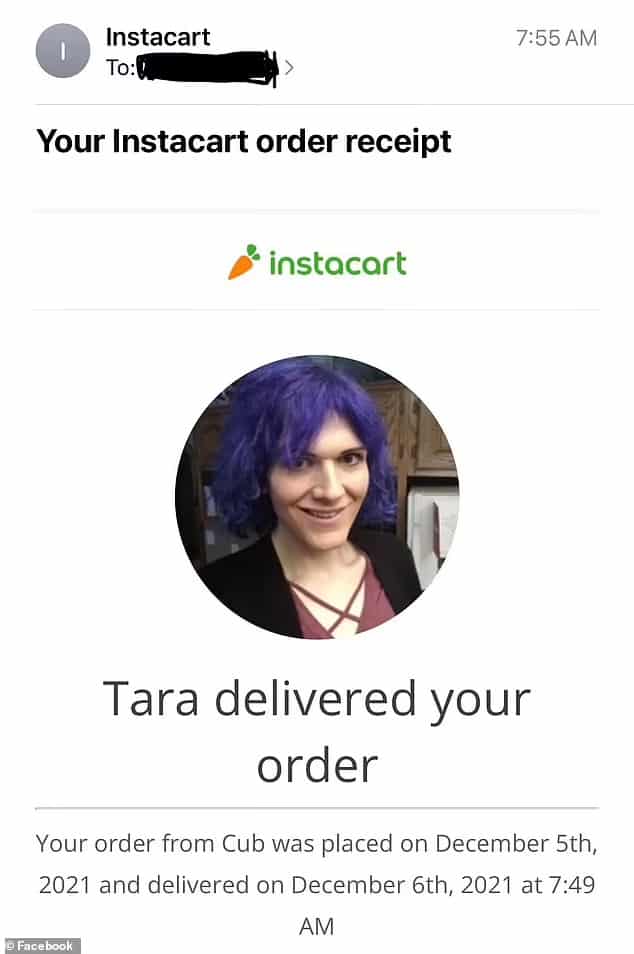 "After the delivery driver left, they found that their groceries had been run over in the driveway," the police statement continued.
The police said that after reviewing the context of the written message, "it appears that the delivery driver's actions were in response to a sign supporting law enforcement that is in the homeowner's front yard."
The department added that the couple received a full refund from Instacart and "an outpouring of support from the community."
"The delivery driver has been identified and the investigation continues with charges likely in the near future," the statement said. "Please note that while it is wonderful to see the community support for this family, we cannot accept donations for them at the police department. Thank you once again to our wonderful Blaine community for the support that you have shown to this family."
The driver has not yet been publicly identified, but has been described by the department as a 36-year-old woman from Coon Rapids.
"She is not cooperating with us, if you can believe that," Blaine Police Chief Brian Podany told local station KSTP.
Instacart has fired the shopper.
A GoFundMe fundraiser set up to help the couple has already raised over $9,000.
"Tara probably doesn't know how carefully those $50 in groceries were budgeted for. Or how devastating the recent medical diagnosis has been. Or how scared and vulnerable her vile act of hatred made them feel," Gray, who organized the fundraiser, wrote in the description.