Governor Doug Ducey surprised parents, students, and education advocates when he joined them at the Arizona state house to demand that Secretary of State Katie Hobbs complete the signature verification process of a failed initiative seeking to halt the expansion of school choice statewide.
Ducey signed into law H.B. 2853, legislation that creates Empowerment Scholarship Accounts (ESAs), which allow education dollars to be used by families for any educational institution of their choice — public or private.
Opponents of the legislation launched a petition to stop the law from taking effect and sought to make it a ballot initiative for the 2024 election.
While 118,843 signatures were needed for the referendum, numbers released by Hobbs' office show the petition fell short by roughly 40,000 signatures. Once the final signature count is certified and shows fewer signatures than the threshold needed to pass the referendum, the school choice law will go into effect immediately.
Hobbs' office has 20 days to complete the process, giving her through mid-October. But, parents united to demonstrate at the courthouse on Sept. 28 because the deadline to fund the first quarter of education is Friday, Sept. 30.
If the verification process is not completed by that date, families will not receive funding that would have funded their child's education for Q1.
Many of the parents who attended the rally believe if this happens it is being done intentionally for political reasons.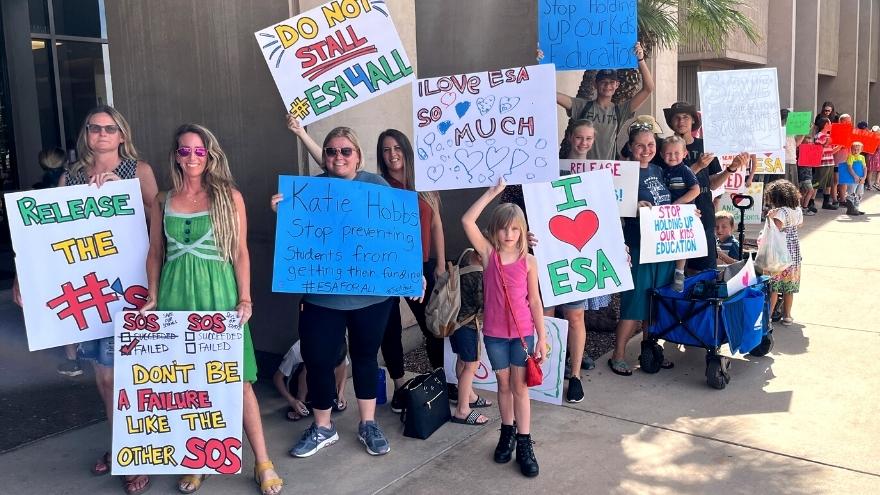 "It took four moms two-days to count all the signatures and we know they didn't make it," Christine Accurso, a local parent who led the historic school choice initiative, told Timcast. "So I have no idea what's taking so long for the Secretary of State to be able to release that number."
Accurso claimed that the activist group Save Our Schools (which is deeply opposed to school choice) may be working in tandem with the Secretary of State's office to punish parents and delay the enactment of this new legislation.
"Sure looks like a charade to me," she said. "Because who in their right mind, knowing you have 88,000 signatures when you need 118,000, who would do something like that?"
She explained that if Hobbs waits longer, it will cost local families because of the impending deadline: "So if she doesn't [complete the signature verification process] before, then there's a chance these kids aren't gonna get quarter one funding, and some of them haven't even started school yet."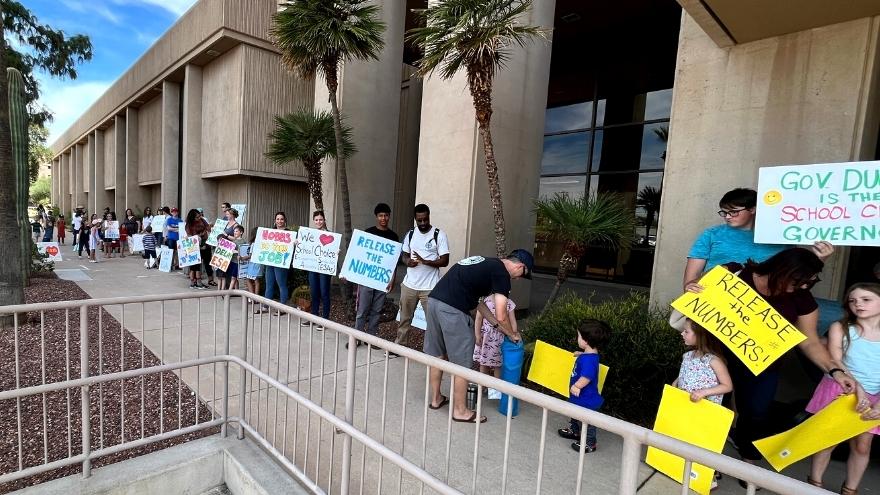 Accurso added, "I know three families who are in public schools who have placeholders in private schools waiting for this."
The morning of the demonstration, Arizona State Senate President Karen Fann sent a letter to Hobbs, formally urging her to complete the process prior to the deadline.
Fann notes that the law was originally set to take effect on Sept. 24, but was put on hold while signature verification was conducted.
"Indeed, if the referendum proponents had accurately stated that they had not reached the signature threshold needed at the time of filing, your office would have been obligated to immediately disqualify the referendum from the ballot," the letter states. "But, based on the referendum proponents' incorrect and inflated reporting, the effective date of a duly enacted law of this state has been suspended, pending review by your office."
This morning, @FannKfann calls upon @SecretaryHobbs to end the uncertainty and confusion for families wanting to take part in Arizona's Universal ESA School Choice Program. The hold on this funding for students is unjustified and unnecessary.
Read more… pic.twitter.com/lom1VsI1qb

— AZSenateRepublicans (@AZSenateGOP) September 28, 2022
"We recognize statute allows you up to 20 business days to verify signatures, but we are asking that you expedite this process," the letter says. "Because your office is already in possession of compelling evidence of the insufficiency of the referendum petition, anything less than an immediate rejection of the petition will make your office complicit in the referendum proponents' misreporting and interference with the duly enacted laws of this state."
Hobbs issued a statement on Twitter saying her team is on track to complete the review within the 20-day window, but addressed neither the fact that her team has been in possession of the signatures for five days, nor the Friday funding deadline.
The Secretary of State's team is absolutely on track to complete the statutorily required review of the citizen referendum on or before the 20-day window that the law allows. 🧵1/7

— Secretary Katie Hobbs (@SecretaryHobbs) September 28, 2022
Local parents who say they need Arizona's new school choice program expressed strong concerns that the deadline will be missed.
"We've been out here because my son has a special need and unfortunately our local public school district would not give him an IEP (Individualized Education Program) and so he couldn't qualify for an ESA under the old program. So since the state expanded the ESA to every student in Arizona, my son can use the ESA funds and my daughter can as well," Taylor Hoffman, a 35-year-old resident of the East Valley of Phoenix, told Timcast.
"Well, if Katie Hobbs doesn't state that they don't have enough signatures by Friday, my son, my daughter and all the other kids who are waiting will not be able to get their full funding that the Arizona legislature intended them to have," she explained. "So really, we think Katie Hobbs is interrupting the democratic process by dragging this out for political reasons."
Shannon Benke is a mother with a special needs daughter who has been fighting the public school system for more than a year to get evaluations done and certain things in place for her daughter's education.
While her family has been unsuccessful, they found a private school that specializes in children with learning disabilities and want to use the ESA funds for that school. She's frustrated with the delay in certifying the signatures and the pressure it's putting on local parents who worry their child's education may not be funded.
"It's very disappointing because I think we all know, moms have counted. We know they don't have enough signatures," Benke told Timcast. "So at this point, it's just she's delaying for no reason."
Benke said though her family is already benefitting from a separate ESA program, she wants "other people to have access to the same resources we have."
She added that she believes that missing the Sept. 30 deadline could possibly negatively impact the political campaign for Hobbs, who is running for Governor in the 2022 election.
"Just announce it and let's move forward," she said. "I can't imagine it won't damage her campaign."