Photos of a purported Iowa political campaign mailer criticizing Donald Trump have been circulating social media.
The ad, which attempts to smear Trump using previous pro-LGBTQ statements he's made, has been attributed to individuals tied to the campaign apparatus of Florida Gov. Ron DeSantis, who is challenging Trump for the Republican presidential nomination.
However, currently, there is no evidence the mailer originated from the DeSantis campaign. Some publicly available information shows that the ad is connected to a leftist, progressive organization.
The ad first appeared in a post from Bleeding Heartland, a blog about Iowa politics, and is largely focused on campaigns and elections, state government, as well as social and environmental issues. As the outlet noted, the mailer was "designed to create negative views of Trump" among potential GOP voters.
Many on social media rushed to blame the DeSantis campaign for sending out the inflammatory ad despite little evidence that it is real and none linking anyone in the DeSantis orbit to the initiative.
This won't fly in Iowa, even among conservatives.

Iowans are welcoming to everyone.

And trailblazers on civil rights.

We never allowed slavery.

And protected freed slaves.

We desegregated schools nearly 90 years before Brown v. Board of Education.

And were pioneers in… https://t.co/ApGsOOOIeu

— 🇺🇸 Mike Davis 🇺🇸 (@mrddmia) July 10, 2023
As of the time of this reporting, no images have emerged from any individual who received the mailer other than the one that was used in the Bleeding Heartland blog post. In that photo, there was no name or address of the person to whom the mailer was allegedly sent. The advertisement also did not have an Intelligent Mail® barcode, which is a 65-bar U.S. Postal Service barcode used to sort and track mailers.
There is no evidence this Iowa ad is real:

• No images shared by any supposed recipient other than one traced back to the Bleeding Heartland blog
• No record of 'Advancing Our Values' anywhere, including FEC reports
• The address traces to Eco-Site, LLC, a company that… https://t.co/PmH6sbDvYv

— Adrian Norman (@AdrianNormanDC) July 10, 2023
The name of the organization that purportedly sent the mailer is listed as "Advancing Our Values." While the name was registered with the Iowa Secretary of State on June 27, there is no record of the organization anywhere else, including filings with the Federal Election Commission (FEC) and other reporting agencies that track groups statutorily required to be named in connection with political campaigning, contributions, and expenditures.
According to records from Bizapedia, the address listed for the organization is tied to 96 separate companies, and is a default address used by the company Cogency Global, Inc., an agency that registers corporations and nonprofits. A representative for Cogency Global would not provide Timcast News with further details about Advancing Our Values, or any other company tied to the address, stating that client information is confidential.
Most of the companies registered by Cogency Global are categorized as an "Iowa Foreign Profit" or "Iowa Foreign Limited-Liability Company." The Iowa Secretary of State's (SoS) office told Timcast News that those designations are used by companies not based in Iowa that are seeking to operate within the state.
According to the organization's articles of incorporation, the only officer listed for Cogency Global is Kyle Adema, who is titled "Director" and resides in Omaha, Nebraska.
Some internet investigators also traced the company's address to an organization called Iowa Forward, whose website redirects to Iowa Voices, "a communications hub testing progressive messages that inspire voters and aid in the fight for working families," as stated on the group's website.
With the help of another sleuth looks like that address goes back to Iowa Voices which seems to be paid by Progress Iowa which can be found here on Twitter and doesn't seem pro-Trump at all pic.twitter.com/SPEz7vOp6A

— LabbyDogFarm🐊 (@LabbyDogFarm) July 10, 2023
Influence Watch labels Iowa Forward a "left-of-center advocacy group" and notes that the group was registered with the state of Iowa in 2019 under the name Heartland Forward, a group that says it is committed to "job creation", "knowledge-based & inclusive growth", and "improved health outcomes".
According to a page listed as "messaging guidance," Iowa Forward's priorities include protecting public education, advancing gun control, codifying abortion federally, and prosecuting Jan. 6 protestors.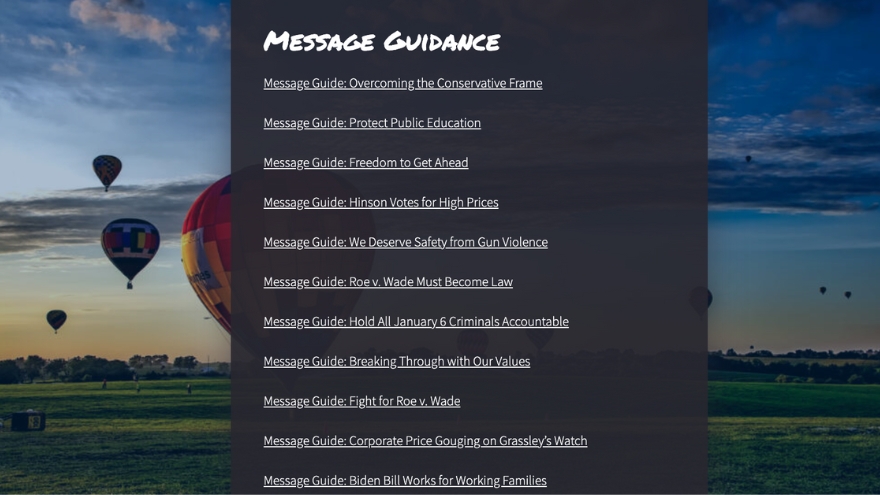 The group is funded by Progress Iowa, a progressive organization with more than 100,000 members, according to its website.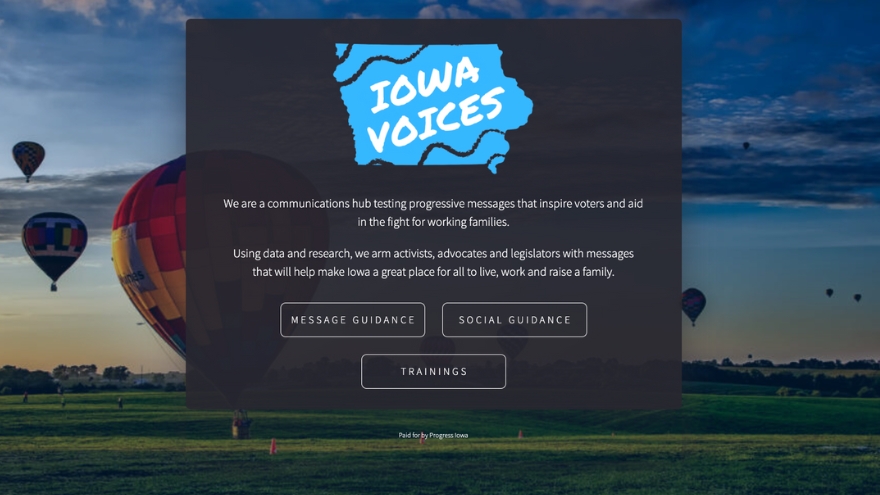 In 2021, Iowa Forward provided a $50,000 grant to ProgressNow, which claims to be non-partisan, but exists to "promote progressive ideas and causes with creative earned media strategies, targeted email campaigns, and cutting-edge new media," according to its website.
"Because we work to promote a 'progressive' agenda, not a partisan one, our work continues regardless of which party controls the levers of power at the federal, state and local level. Whether we're fighting against conservative policies or promoting progressive ones, we can be effective," the group states.
ProgressNow worked to target Trump and many of his cabinet appointees across all 50 states, fought against the repeal of the Affordable Care Act, and opposed the recent Supreme Court ruling that upheld the right of individuals to not be forced to design wedding websites for gay couples.