Freelance photographer Chelly Bouferrache, who was documenting The Post Millennial senior editor Andy Ngo's civil trial, was barred from reporting in the courtroom after alleged Antifa member
Hailley Nolan

harassed Bouferrache over press credentials.

The freelance photographer was present during day one of Ngo's trial and provided photos to The Post Millennial which were subsequently used in an article detailing his trial. Bouferrache was present during the second day of Ngo's trial, though was removed after an outburst from Nolan.

According to Bouferrache, Nolan attempted to inform a deputy that Bouferrache was "fake media" and demanded the court check the freelance photographer's press pass during Ngo's testimony.

A defense attorney similarly objected to Bouferrache's photography saying they didn't want photos taken of them. However, Judge Champone P. Sinlapasai corrected the attorney by insisting freelance photographers were allowed to record the proceeding, per her decision during Monday's jury selection.

After continued demands to authenticate the freelance photographer's press credentials, the Court obliged her demands and verified the freelance photographer's press pass. Bouferrache was subsequently removed as a photographer after her credentials were deemed "insufficient" as a freelance photographer rather than an employee of an outlet.
I was just harrassed to the point of court being interrupted during @MrAndyNgo's testimony by Hailley Nolan who was loudly demanding they check my press pass. Then the defense attorney told me I couldn't take photos of her. The judge corrected her and then there was a sidebar out…

— HoneyBadgerMom (@hunnybadgermom) August 2, 2023
The Post Millennial's Katie Daviscourt, who was also reporting on the trial, revealed only one photographer would be allowed to report from the courtroom for the duration of the trial, per Sinlapasai's order. Members of the press pool would subsequently have access to photos taken by the lone photographer.
The judge resumed the court and ruled that only one photographer can take photos for the duration of the trial. The press pool will have access to these photos.

— Katie Daviscourt (@KatieDaviscourt) August 2, 2023
"I have years of publishing photos in commentary publications and newspapers. This is my job," Bouferrache said. "This is particularly upsetting as this work is personally meaningful, and professionally meaningful."
Bouferrache noted she was a single mother and her removal from the courtroom prevented her from earning income through her work on Ngo's trial with The Post Millennial.

Turns out my credentials/freelancing were deemed insufficient. I'm out as a photographer. This is particularly upsetting as this work is personally meaningful, and professionally meaningful. I am a single mother being denied much needed work (income). Will this set a precedent?

— HoneyBadgerMom (@hunnybadgermom) August 2, 2023
Shortly after her removal, Bouferrache was informed of another freelance photographer who was allowed inside the courtroom. Bouferrache asked an onsite Sheriff's deputy why another freelancer was allowed to report on the trial when she wasn't — to which the deputy said the other freelance photographer was "well known."
When Bouferrache pressed the deputy about the freelance photographer, the deputy reportedly shrugged his shoulders.
"My understanding is that the judge has appointed a press pool photographer that all journalists will have access to," wrote The Post Millennial in a statement to Timcast News adding the outlet is looking further into the matter.
Following Ngo's trial, an X account claimed Bouferrache was "taking pictures of people in the gallery of the courtroom." The account, which the plaintiff believes to be associated with defendant Elizabeth Renee Richter per The Post Millennial's reporting, also claimed another man was with Bouferrache "intimidating" visitors of the courtroom.
"[Bouferrache] was taking pictures while pretending to be press and it caused such a disturbance that the judge had to send new orders in place that only one member of the real press is allowed to be there taking pictures," reads a post from @RisingPDX.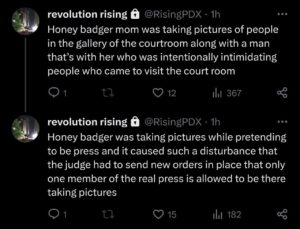 Bouferrache denied the account's allegations.
Leading up to Ngo's trial, the account referred to Ngo as a "maggot" and further referenced The Post Millennial's infamous 2019 "concrete-infused" milkshake assault by alleged Antifa members.
Safety concerns were brought up with Sinlapasai at the beginning of Wednesday's proceedings. The account appears to have gone private following safety concerns raised by Ngo's team.
Sinlapasai reportedly issued a warning noting strict security measures had been placed in response to alleged threats of violence prior to Ngo's trial.