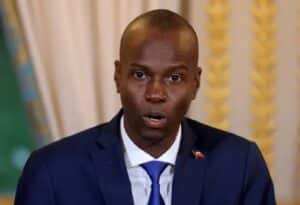 By Hannah Claire Brimelow
Two dual U.S.-Haitian citizens and 15 others are being held in connection to the assassination of President Jovenel Moïse.
Haitian police confirmed that several additional men were killed during a firefight. Initially, they reported seven fatalities but have since said there were only four. The government is still searching for eight other suspects.
As the 17 handcuffed suspects sat on the floor during a news conference on Thursday, Police Chief Léon Charles said "We are going to bring them to justice."
One of the men is 35-year-old James Solages, a Haitian-American. A website for a charity he started in 2019 in south Florida says he previously worked as a bodyguard at the Canadian Embassy in Haiti. Another Haitian-American, Joseph Vincent, was also arrested. The  French-language newspaper Le Nouvelliste said the two men told investigators the original plan was not to kill Moïse but rather to arrest him. The newspaper also said Solages and Vincent were translators for the attackers.
Early reports say at least six of the men are former Columbian soldiers. The Columbian president, Iván Duque, ordered his country's police and military to cooperate during the investigation.
On Wednesday, attackers accessed the president's home in the hills above Port-Au-Prince. "Moïse was shot 12 times in the head and body, while his wife was shot three times. Their daughter survived by hiding in a bedroom and managing to escape," according to ABC News.
The news sources added "Moïse had become increasingly unpopular for clinging to power after his term expired in February. Protesters had been demanding his resignation for months before he was killed."
"Not everyone was buying the government's description of the attack. When Haitian journalist Robenson Geffrard, who writes for a local newspaper and has a radio show, tweeted a report on comments by the police chief, he drew a flood of responses expressing skepticism. Many wondered how the sophisticated attackers described by police could penetrate Moïse's home, security detail and panic room and escape unharmed but then be caught without planning a successful getaway," AP News reports.
First Lady Martine Moïse, wife of the assassinated president, has been flown to Florida for medical attention.
For corrections, please email [email protected]